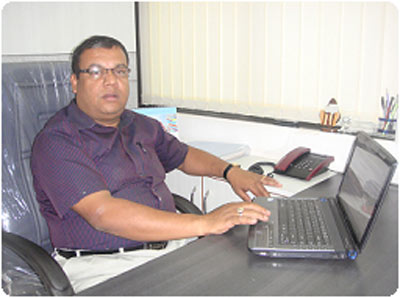 Uttam Choudhari, CMD
( Chairman and Managing Director )
Green Field Material Handling P. Ltd., An ISO 9001-2000 Certified Company a group of companies founded in 1990, offering a wide range of products and services to industry in the specialized field of materials handling and lifting.
The vital strength of the organization is the vast experience or our key person, for more than two decades, in the field of Material Handling and Critical Lifting which has solved a lot of lifting problems in India and Overseas as well. Our accomplished engineering sales force could solve any sort of lifting problems. Advise and Implement on up to date, latest innovative designs and solutions to meet newer challenges.
We sincerely attend your requirement, small or large, from a single hook to a 50 meter long non-metallic sling.
Our speciality is heavy-duty non-metallic sling, made of polyester. These are of two types of flat webbing sling with Eye-loop at the ends and Round (endless) slings. Both are available in different lengths & different weight lifting capacities ranging from 1 ton up to 300 tones.
We also have various types of Hooks, D-Shackles, Bow Shackles, Multi leg slings, Master Rings & Cargo lashings, Safety Harness, lifting beams, lifting clamps & crane Weighing Systems etc. The Green Field's efficient personnel are always available to advise you on any type of problem in material handling and lifting.