HOOK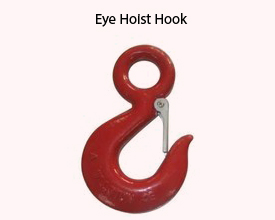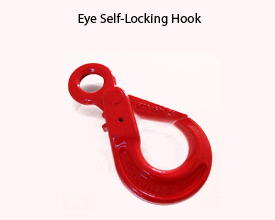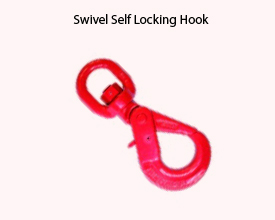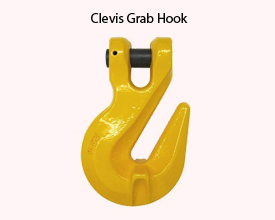 With the help of our skilled professionals, we are capable in offering a wide array of Eye Hoist Hook. The given hoist hook is available in diverse stipulations to choose. This hoist hook is manufactured by top grade material in accordance with the industry standards. Also, offered hoist hook is tested in terms of quality for supplying a flawless range. Customers can avail the offered hoist hook from us within a given time frame. We are specialized in offering Eye Self Locking Hook to our customers. Our presented product is extremely used in the market owing to their top features.
Eye Hoist Hook.
Eye Self-Locking Hook.
Swivel Self Locking Hook.
Clevis Grab Hook.
| | | | | | | | | |
| --- | --- | --- | --- | --- | --- | --- | --- | --- |
| Item No. | Weight/KG | WLL/T | B.L/T | Q mm | Emm | Hmm | Dmm | Lmm |
| 0.75T | 0.18 | 0.75 | 3 | 16.00 | 19 | 17 | 9 | 97 |
| 1T | 0.27 | 1 | 4 | 19.05 | 22 | 19 | 9 | 110 |
| 1.5T | 0.35 | 1.5 | 6 | 23.11 | 23 | 21 | 10.5 | 125 |
| 2T | 0.65 | 2 | 8 | 28.45 | 24 | 26 | 12.5 | 140.5 |
| 3T | 0.86 | 3 | 12 | 31.75 | 27.5 | 28 | 14.5 | 162 |
| 4.5T | 1.75 | 4.5 | 18 | 39.62 | 33 | 37 | 18 | 201 |
| 7T | 3.5 | 7 | 28 | 50.8 | 40 | 46.5 | 23 | 256 |
| 11T | 6.3 | 11 | 44 | 61.98 | 51 | 57 | 28 | 317 |
| 15T | 8.3 | 15 | 60 | 72.14 | 69 | 67 | 32.5 | 350 |
| 22T | 16 | 22 | 88 | 87 | 86 | 78 | 40.3 | 433.3 |
| 30T | 30 | 30 | 120 | 90 | 98 | 99 | 46 | 494.5 |
Eye Self-Locking Hook
| | | | | | | | | | |
| --- | --- | --- | --- | --- | --- | --- | --- | --- | --- |
| Item No. | Weight/KG | WLL/T | B.L/T | Q1 mm | Rmm | Dmm | Q2mm | Hmm | Emm |
| 6 | 0.5 | 1.12 | 4.48 | 22 | 110.5 | 10 | 34 | 19.5 | 28 |
| 7‐8 | 0.8 | 2 | 8 | 25 | 136 | 12 | 46 | 24 | 34 |
| 10 | 1.55 | 3.15 | 12.6 | 32 | 171 | 15 | 56 | 28.5 | 44 |
| 13 | 3.2 | 5.3 | 21.2 | 40.5 | 208.5 | 19.5 | 69 | 40 | 52 |
| 16 | 5.74 | 8 | 32 | 56 | 257.5 | 22 | 86 | 50.5 | 60 |
| 20 | 8.5 | 12.5 | 50 | 64.5 | 275 | 27 | 100 | 55 | 81 |
| 22 | 13 | 15 | 60 | 70 | 320 | 30 | 98 | 67 | 82 |
| 26 | 18 | 21.2 | 84.8 | 80 | 363 | 34 | 110 | 75 | 110 |
| 32 | 44.5 | 31.5 | 126 | 105 | 472 | 45 | 166 | 97 | 168 |
Swivel Self Locking Hook
| | | | | | | | | | |
| --- | --- | --- | --- | --- | --- | --- | --- | --- | --- |
| Item No. | Weight/KG | WLL/T | B.L/T | B mm | C mm | Dmm | L mm | T mm | Emm |
| 1.12 T | 0.71 | 1.12 | 4.48 | 32.5 | 22 | 11.25 | 170 | 34 | 29 |
| 2T | 1.1 | 2 | 8 | 35.5 | 26 | 12.5 | 210 | 46 | 34 |
| 3.15T | 2 | 3.15 | 12.6 | 42 | 34 | 15 | 247 | 56 | 44 |
| 5.3T | 4 | 5.3 | 21.2 | 50 | 38.5 | 16 | 302 | 69 | 52 |
| 8T | 7.3 | 8 | 32 | 61 | 55 | 21.5 | 383 | 86 | 60 |
| 12.5T | 11.6 | 12.5 | 50 | 72 | 61 | 26 | 418 | 100 | 83 |
| 15T | 16 | 15 | 60 | 95 | 95 | 33 | 527 | 98 | 88 |
| 21.2T | 21.5 | 21.2 | 84.8 | 122 | 115 | 42 | 610 | 110 | 95.5 |
| 31.5T | 79 | 31.5 | 126 | 140 | 146 | 52 | 777 | 166 | 150 |
Clevis Grab Hook
| | | | | | | | | |
| --- | --- | --- | --- | --- | --- | --- | --- | --- |
| Item No. | Weight/KG | WLL/T | B.L/T | A mm | B mm | E mm | M mm | L mm |
| 6 | 0.28 | 1.12 | 4.48 | 7.5 | 32 | 8 | 45.5 | 78 |
| 7-8 | 0.3 | 2 | 8 | 9 | 36 | 11 | 36 | 108 |
| 10 | .95 | 3.15 | 12.6 | 12 | 46 | 13 | 79 | 127 |
| 13 | 1.97 | 5.3 | 21.2 | 15 | 59 | 16 | 100 | 163 |
| 16 | 3.45 | 8 | 32 | 17.5 | 70 | 20 | 122 | 204 |
| 18-20 | 5.3 | 12.5 | 50 | 23 | 80 | 23 | 150.5 | 243 |
| 22 | 7.8 | 15 | 60 | 25.5 | 98 | 26 | 169 | 280 |